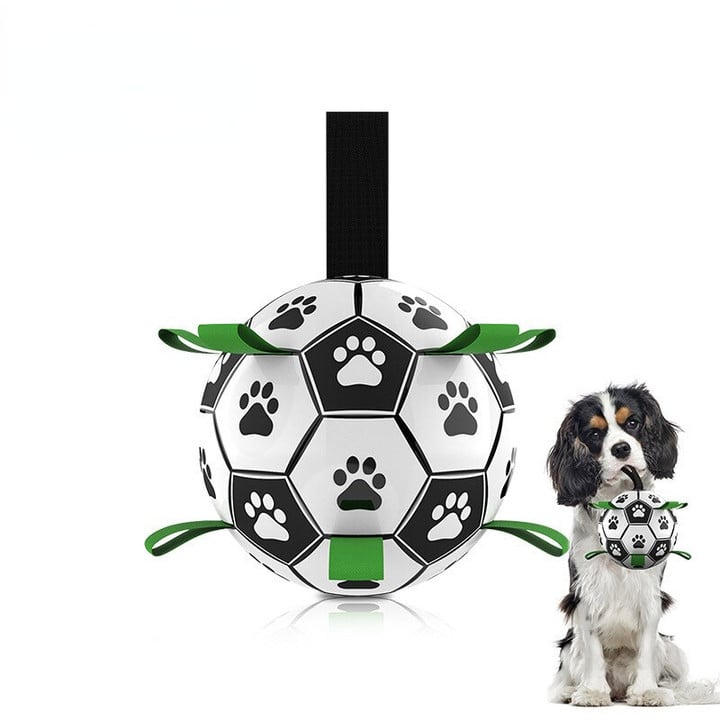 Get your dog ready to play soccer with this interactive ball!
Upgrade Interactive Dog Toy: Dog soccer ball with nylon tabs sewn evenly into the seams not only create an erratic bounce that dogs love to chase, but also make it easier for the dogs to fetch, toss, tug and retrieve. Dog paws are printed evenly on the dog toys ball to attract dogs attention. There's a longer strap for people to hold onto the ball, making it a great interactive dog toy to train your dogs.

Ultra Bouncing Ball for Water Play: Adopted the lightweight, buoyant design, soccer ball for dogs can be played in the pool, lake and beach as well. The grab tabs dog soccer ball is meant to keep your dog entertained, active and help human beings and dogs stay engaged.

Training and Fitness; Perfect for use as a training ball to encourage exercise and discipline. Interactive toy to help improve the fitness level of your dog.

Medium and Large; Designed for dogs of all sizes and breeds. From puppies in training to high energy dogs.

The dog owner interacts with the dog outdoors, the dog owner kicks the ball out, and the dog bites back the soccer ball with grab tabs, which greatly promotes the relationship between the owner and the dog.With lots of sensory stimuli, Help your dog fight boredom and reduce mischievous behavior and provides long-lasting entertainment,fights anxiety, depression and boredom, when Dogs stay at home or outside.
If you're not fully satisfied, please fill in our
contact us form
and we'll quickly work to correct the problem.