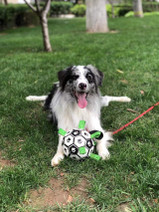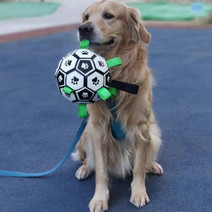 Get your dog ready to play soccer with this interactive ball!
Our Interactive Dog Toys Border Collie Toys Football Soccer Ball, the perfect playtime companion for your energetic pup.
This specially designed soccer ball is made with high-quality rubber material, ensuring durability and endless entertainment.
Here are the key features and specifics of this exceptional product:
Made of premium rubber material, this soccer ball is built to withstand hours of playtime with your furry friend.
It is an interactive toy specifically designed for dogs, providing a lightweight and bouncy experience. You can kick it, throw it, or hold the handle to engage your dog in a fun game of chase.
The ball shape is wear-resistant and bite-resistant, making it suitable even for aggressive chewers. It is designed to withstand strong jaws and is not easily damaged by biting.
The pure cotton yarn rubber liner adds an extra layer of protection, ensuring the longevity of the toy and providing enhanced durability.
We include a pump with each purchase, making it easy to inflate or deflate the soccer ball as needed for your pet's play preferences.
Please note that the product images provided showcase the M size dog football.
Enhance your playtime experience with our Interactive Dog Toys Border Collie Toys Football Soccer Ball.
Made with high-quality rubber material, it guarantees long-lasting fun for your pup. Whether you're kicking it, throwing it, or playing tug-of-war with the handle, this soccer ball is designed to keep your dog engaged and entertained.
Its durable construction ensures it can withstand even the most enthusiastic play sessions. With the included pump, inflating or deflating the ball is a breeze.
Let your dog enjoy the thrill of playtime with this interactive toy.
Order now and witness the joy on your pup's face as they chase, chew, and play with their new favorite soccer ball.
Dogs Shows:
Squeaky Light Ball
We can throw the dog toy or press it to turn on the light, after some seconds, the light will turn off automatically.
When you squeeze, it will make sound.
\
If you're not fully satisfied, please fill in our
contact us form
and we'll quickly work to correct the problem.